Ask the experts
Here is a selection of Q&As from Your East Midlands Wedding magazine. If you would like your question answered by our experts, please email it to editor@youreastmidlands.wedding.
To view more Q&A's on a different topic, please select one from the list below.
Hot topic: Big-day boho style
Festival season's nearly here, so create your own Wedfest with the help of our experts
---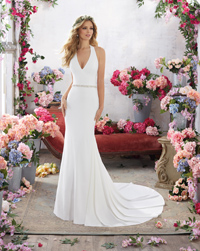 Gorgeous gowns
Q. We're planning an outdoor wedding with a relaxed vibe. I want to look 'bridal' but not too formal. What sort of dress should I opt for that will give me the boho look?
A. Helen Dickson says: You should always choose the dress that suits your personality and body shape, regardless of the venue or theme. Having said that, some brides really don't want a formal look, they want to feel relaxed and not worry too much about maneuvering their dress around. It can be difficult to find the right compromise, as you still want to look like a bride on your big day. I recommend light fabrics such as chiffon, organza and tulle to keep you cool and soft enough to make you feel relaxed all day long.
---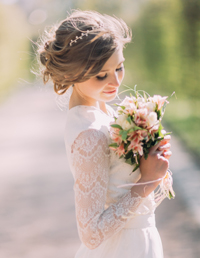 Caual curls
Q. I'd like my hair up during the ceremony but down to rock it out into the evening. What suggestions do you have for a casual look?
A. Alison Jenner says: For a stunning boho updo you need soft loose curls, clustered quite low to give a relaxed look. Use padding to grip the curls but to give some structure and hold. Only add a little height on the crown area as too much will give a more elegant look. For me a centre parting's essential with lots of soft whispy pieces trailing down around the face. Complete this look with a brow accessory of choice and tuck each end beneath the hair.

To change this look but with an equal amount of wow, gently remove the browband and grips holding the curls and let them fall. Remove the padding and carefully tease through the curls. There's no need to brush or comb. Finish the look by adding either another headpiece or flowers.
---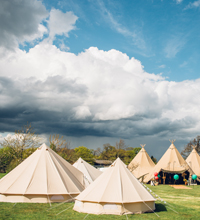 Glamp it up
Q. We're planning a tipi wedding and would love our guests to camp with us on our wedding night but I don't want lots of tents around the place – do we have other options?
A. Jodie Bidder says: The joy of a tipi wedding means that you can extend the celebration to a weekend, camping over and waking the next morning with your new husband or wife, but also close family and friends to enjoy having breakfast together.

I'd advise to hire a luxury bell tent for you and offer the option for your guests to add a bell tent too – they'll look great next to your tipi! Why not put together a really simple package of a bell tent already kitted out with the bed and linen, plus the offer of breakfast for an inclusive price, your guests will enjoy the simplicity of it. They don't have to worry about getting home at the end of the night or pitching their own tent.
---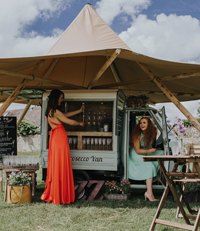 Setting the scene
Q. I love the idea of a festival wedding and can't wait to get creative with the décor but I'm not sure where to start. Can you give me some ideas that'll bring the theme to life?
A. Sophie Stew says: When it comes to festival style you can opt for a boho-styled day or circus theme with bold colours and fancy fonts. Garden games, candy carts and ice-cream bikes work well for either look and will go down a treat with your guests.

Use festoon lighting to make the best of your outdoor space and I'd suggest using a tipi rather than a marquee to create a country feel. Mix and match your colours and play with lots of textures. Also think outside the box when it comes to finishing touches – an object doesn't have to be used for its purpose, pig troughs can be turned into a container for your beer for example! Large light-up letters and giant balloons look fab in your funky pics, with you in a tea-length dress wearing wellies – perfect!
---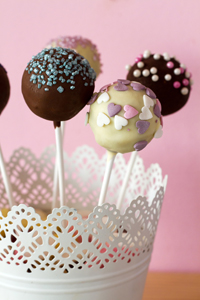 A twist on tradition
Q. A traditional cake won't suit our boho theme so what else can we do to give our guests a sweet treat with a difference?
A. Debbie Bass says: If you're creating a relaxed, laid-back day, you're quite right when you say a traditional iced cake might not complement your theme. There are lots of other options and your cake supplier will be able to talk through this with you but I'd suggest cake pops or cupcake towers – they look fab and your guests will love their little individual treat. Sculptured model cakes will also work well and you could opt for carrot cake, red velvet, lemon or your favourite flavour rather than traditional fruit or Victoria sponge.
---
Contact our experts...

Alison Jenner
Hair stylist

Debbie Bass
Cake expert

Helen Dickson
Bridal boutique director

Jodie Bidder
Wedding marquee expert

Sophie Stew
Stationery designer
---