Ask the experts
Here is a selection of Q&As from Your East Midlands Wedding magazine. If you would like your question answered by our experts, please email it to editor@youreastmidlands.wedding.
To view more Q&A's on a different topic, please select one from the list below.
Hot topic: Love is in the air
Local experts advise on keeping it classically romantic
---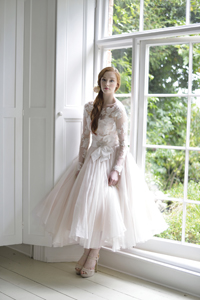 Believe in fairytales
Q. I've always dreamed of wearing a princess wedding dress that really stands out. Which designers and collections would be best for me to consider this season?
A. Helen Dickson says: I'd recommend Ivory & Co due to the fact that they use exquisite silks, laces and beadwork with a classic vintage feel giving a romantic sensation. The way they're cut, move and drape over the body is fantastic and they use interchangeable jackets and tops for a more bespoke design.

Mori Lee is also using remarkable satins that have an understated elegance. These fabrics are traditional, giving a more regal princess feel rather than a fairytale princess but still give you sparkle detail at the back rather than the front of the dress. They're also using button detail on the trains giving that hint of glamour.

There are different princess looks – regal, fairytale and romantic so both collections have something for each.
---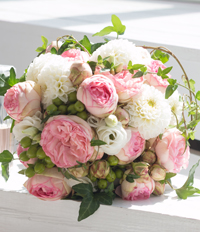 With this rose
Q. We're opting for a traditional day and I'd love my flowers to follow that theme. How can I opt for a classic rose bouquet that still looks contemporary?
A. Zoe Elsey says: Many brides feel that roses will look too classic but you can make it look fresh and contemporary too and who wouldn't love a bouquet of romantic roses on their big day? I'd keep it simple with a grouped posy of large open roses and peonies in a variety of pale pastel shades entwined with trailing ivy and fresh sprigs of rosemary and lavender. The end result will be a gorgeous fragrant and modern summery look.
---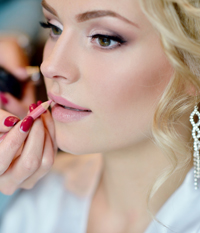 Blushing bride
Q. When it comes to my hair and make-up can you advise on how to create a timeless look?
A. Chloe Williams says: For an effortless look that oozes sex appeal for your big day I'd suggest a classic up do with loose curls and styled with a beautiful diamond clip. When it comes to your make-up I'd recommend a very natural approach for the face for that flawless finish. Highlight your cheeks and opt for a classy smoky eye to enhance your eye shape and finish with a nude lip. There's a shade out there for everyone but I do recommend the Nars cosmetics velvet matte lip pencil in your desired colour.
---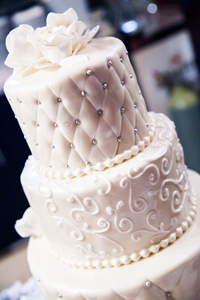 Tiers of joy
Q. We're in the process of deciding on a cake design with some elements of my gown featured. What do you suggest for a classic bake that'll take centre-stage?
A. Yvonne Herring says: There are many options to create a wow factor cake. You could have sugar ruffles that look like fabric, edible pearls that complement your dress, cake lace, fondant bows, delicate piping and applique elements. If you have lace in your wedding dress opt for edible lace wrapping around some or all of the tiers. There are so many different designs and colours available so you can match it closely to your gown and it's incredibly realistic.

I find that a white iced cake with white decorative elements is classic, elegant and beautiful. To add some colour you can have a cascade of sugar flowers. Roses or peonies in soft pastel shades work very well but I love to match them to your bouquet.

Overall it largely depends on what your dress is like and what you want to recreate – the possibilities with sugar are endless!
---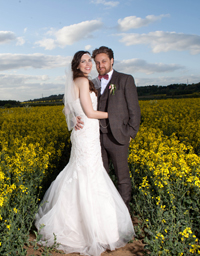 Every picture tells a story
Q. Our photographer has suggested we come up with a list of 'musthave' shots before our big day. What are the most romantic parts of the day we need to capture on camera?
A. Paul Massey says: You as a married couple! I always make sure that I spend time with the bride and groom to make sure that I capture some incredible photos that they'll love. The downtime between the speeches and evening entertainment's normally a good time for this as the light can be gorgeous. If your photographer's familiar with the venue they'll know a few go-to locations that'll work well, if not they'll usually have a good look around beforehand. One wedding I shot didn't have a great outdoor location but there was a rapeseed field in full bloom a short drive away so after dinner we spent some time there producing some great images.

If there's a beautiful sunset at a particular point I often grab my bride and groom and get the photos immediately. I'd always recommend that you discuss your ideas and must-have pics with your photographer and then you can work together to get the best from your big-day coverage.
---
Contact our experts...

Chloe Williams
Make-up artist

Helen Dickson
Bridal boutique director

Paul Massey
Photographer

Yvonne Herring
Cake expert

Zoe Elsey
Florist
---