Ask the experts
Here is a selection of Q&As from Your East Midlands Wedding magazine. If you would like your question answered by our experts, please email it to editor@youreastmidlands.wedding.
To view more Q&A's on a different topic, please select one from the list below.
Hot topic: Bright and beautiful
Local experts advise on how to add a splash of colour to your big day
---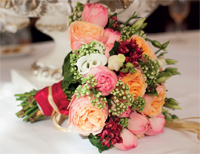 Pick of the bunch
Q. I really want to make a statement with my bouquet. What are the best options for bold, colourful blooms in winter?
A. Sarah Pike says: There are lots of lovely blooms that can add a splash of colour to any winter wedding. My favourite is ranunculus, which starts coming in season around October/November and continues until late spring. It's the most beautiful peony shape and lends itself nicely to buttonholes, bouquets and table centres – an extremely versatile little flower! There's a choice of pink, peach, burgundy, red, orange and even yellow so you'll have the pick of the bunch when it comes to complementing your colour scheme. It's part of the buttercup family and grown in this country with a little bit of protection from the winter elements.
---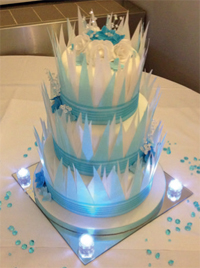 Deck the cake with...
Q. We've opted for a simple cake for our winter nuptials but I'd like to add some brighter elements. What seasonal options are there for sprucing up our sweet treat?
A. Victoria Lee says: A white cake's classic at any time of the year, but does lend itself beautifully to your winter wedding! If your big day's close to Christmas, the addition of seasonal tones will add warmth and depth to your cake table. You could try something as simple as adding fresh springs of holly for a pop of colour or complement your bake with a selection of sweet treats, such as decorated cupcakes and cookies or pretty red and green macarons. Subtle blues and silvers create accents that have a winter feel to them or you could incorporate the colours from your bridesmaid dresses or venue décor with a simple ribbon detail to tie your cake design into the rest of the wedding.
---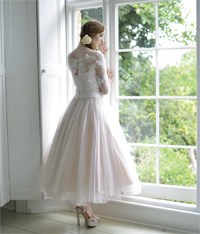 Here comes the bride
Q. I'd like to inject some colour into my classic bridal look without opting for a coloured gown – have you got any ideas?
A. Helen Dickson says: A favourite look of mine is a 1950's-style tea-length dress with a multi-layered soft tulle petticoat worn under the skirt, complete with a hidden layer of your favourite colour. Everyone gasps with surprise when you twirl around to reveal your secret.

The current trend of adding belts as accessories to your wedding dress is also great for introducing colour. Opt for a subtle version for your ceremony and then change it to complement your theme for the reception, with the finale of a fabulous striking colour for your first dance. Your guests will be amazed at how much this simple accessory can change the whole look of your dress. Finish by introducing a pair of amazing bright shoes!
---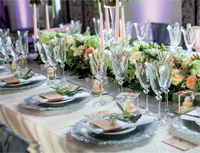 Striking gold
Q. I want to inject colour into my décor but don't want it to be too over the top. What finishing touches can I add to bring my theme to life?
A. Sophie Stew says: Try not to use too much of one bold colour and instead incorporate more subtle tones from the same palette. Too much of one shade can look a bit over the top so try using simple elements such as cream candles or crystal wear in between. Use plenty of items with height so that your tables aren't too busy but you still have your colour incorporated.

Using a bold table runner can be too much of a contrast to white linen so try to use more natural tones and subtly incorporate the odd striking element into key little items that give a nod to your theme such as your flowers, cake and stationery – don't over think it and go mad. At the end of the day you want your venue to look classy rather than a sea of one colour – remember less is more.
---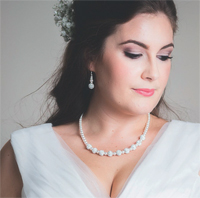 Natural Glow
Q. I normally opt for natural make-up but I want to look different for our big day. How can I inject some new shades without looking like a clown?
A. Penelope Taylor says: Adding some colour and wearing soft pink and heather tones creates a pretty yet timeless look. With blue and green eyes these gentle shades can really make them 'pop', while they intensify brown eyes.

I like to use the MAC 'cool neutral' palette over the eyelid with cream and softest pink as the base colours. This opens up the eye, then into the socket apply the blackberry shade. It's so important to buff this in with a clean brush to really blend and create softness. For depth and definition use a deeper tone into the outer corner of the socket. To sculpt your cheekbones, create a naturally sunkissed look with a golden bronzing powder and highlight with a shimmer brick – I like Pink Glow by Bobbi Brown. The final pop of colour comes from the lips. MAC Cremesheen lipstick in Crosswires is a lovely pinky shade with a touch of orange.
---
Contact our experts...

Helen Dickson
Bridal boutique director

Penelope Taylor
Make-up artist

Sarah Pike
Florist

Sophie Stew
Stationery designer

Victoria Lee
Cake expert
---