Why you should buy issue 29 of Your East Midlands Wedding magazine...
December/January 2018/2019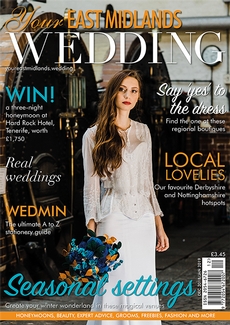 Tenerife competition
Win a three-night honeymoon at Hard Rock Hotel, Tenerife, worth £1,750
Magical memories
Swancar Farm Country House set the scene for Rosie and Oliver's special day
All I want for Christmas...
Rebecca and Kevin shared their festivethemed nuptials with loved ones at Norton Fields
Long-distance love
Georgina's favourite fashion designer was the inspiration behind their stunning day
Local lovelies
Our favourite Derbyshire and Nottinghamshire hotspots
Seasonal settings
Create your winter wonderland in these magical venues
Say yes to the dress
Find the one at these regional boutiques
Wedmin
The ultimate A to Z stationery guide by the region's experts
#dresstrends
We showcase what styles to expect in 2019
Frivolous feathers
Dress up in a fun and flirty number this season
All that glitters
'tis the season to sparkle in this selection of latest bridal accessories
Lady in red
Dress your bridesmaids in this season's most-popular colour teamed with gold
Mask-erade
Bring the life back to your skin with these fabulous face masks
eMagazine
Available to download NOW for only £1.49
Printed Copy
(inc. free eMagazine)
In Stock
Click here to use our online ordering service
---
Buy a copy
There are 5 different ways to buy Your East Midlands Wedding magazine.
Click here to view some sample pages from an eMagazine
To order the latest copy of Your East Midlands Wedding magazine or to obtain back issues, click here.
Alternatively call us to order your copy, post-free for just £3.45, on 01376 514000
Read Your East Midlands Wedding magazine in electronic format for just £1.49 per copy (Smartphone and Tablet compatible) click here
You can subscribe for just £17.60!
Annual subscription (6 issues)
Save over 15% off the normal cover price
FREE postage and packing
Receive each issue as soon as it is published
To order your subscription, simply call us on 01376 514000 or click here
Alternatively, click here to order an eSubscription for just £7.60
Readers will receive an Eviternity bundle from UK body and skincare brand by Peels & Seals, worth £39 when they take out a year's printed subscription to Your East Midlands Wedding.*

Sign up for a year's subscription and not only will you save money on the cover price, you'll also receive a fabulous Eviternity bundle from UK body and skincare brand by Peels & Seals, worth £39*.

Eviternity aims to bring you only the best and most effective products, paying close attention to the ingredients it uses, and the manufacturing processes it adopts to ensure it produces superior products that keeps skin looking great! Eviternity does not test on animals and aims to use as many natural ingredients as possible in all of its products. For more information, visit www.peelsandseals.com

We've teamed up to offer our readers a fabulous duo: the Age Defence Tropical Vitamin C Super Serum is expertly formulated to minimise the signs of ageing by reducing the appearance of lines, wrinkles, age spots and dull, faded looking skin. While the Activated Charcoal Deep Pore Cleanser is made with tea tree oil and formulated with activated charcoal to detoxify that acts like a magnet to draw out trapped dirt deep within the pores.

All you need to do to claim your gift set is take out a year's subscription.*

*Subject to availability
* Subject to availability
4. Buy a copy from a retail outlet
Your East Midlands Wedding magazine is available from newsagents and supermarkets.
However, if you do have problems, or if your newsagents has sold out, then call us!
We'll send your copy to you post-free for just £3.45 inc P&P. Simply call us on 01376 514000
5. Overseas Orders
For non-UK customers, please email admin@county.wedding for full details.
---