Ask the experts
Here is a selection of Q&As from Your East Midlands Wedding magazine. If you would like your question answered by our experts, please email it to editor@youreastmidlands.wedding.
To view more Q&A's on a different topic, please select one from the list below.
Hot topic: Number crunching
Look after your big-day budget with our stellar advice.
---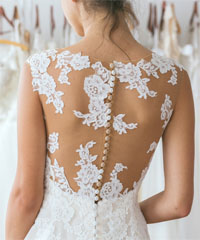 Gorgeous gown
Q. I'd love the wow factor designer gown but worry that I just don't have the budget. Can you give me any advice about finding the perfect dress at the right price?
A. Michaela Chapman says: Always aim to stay within your spend limit by breaking down your outfit into three parts – the gown, accessories, and alterations. Most dresses don't fit perfectly at the beginning but a small bit of money set aside will mean you won't have any unexpected shocks closer to the day. Not all brides want a veil or tiara, so that's going to be something to think about at your appointment but you'll need shoes at least! When it comes to your dress, ask your boutique if they have gowns within your price range before booking in and when browsing the rails try to stay in your budget area. Please don't be fooled by cheap replicas online, you won't get what's pictured. If you're looking for the best deal, sample sales are the way forward. Most boutiques will happily sell their gowns at a reduced price direct from the rail.
---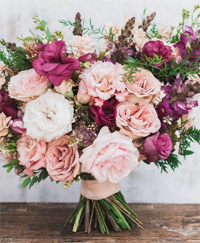 In season
Q. I want the bouquet of my dreams but with a realistic price tag. What blooms can I opt for that don't cost the earth but still look amazing?
A. Rebecca Spencer says: Try to opt for seasonal blooms as this can help with costs. Ask yourself what's the most important factor of your flowers. Is it the colour, a specific flower or your favourite foliage that you just can't be without? Once you know this, your florist will be able to work with you to create something that you can realistically afford.

I'd recommend using the more expensive flowers more sparingly or even save them just for your bouquet and fill out the designs with the slightly more reasonably priced blooms! Find out what flowers are available during the season you're getting married and speak to your florist for ideas based on your budget.
---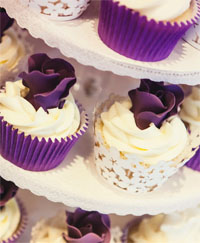 Favourite bake
Q. We have a large guest list but can't stretch to a huge cake. What else can we provide as a sweet treat that'll go further?
A. Yvonne Herring says: A popular solution here is to have a kitchen cake in addition to your main showstopper. This is basically what it sounds like – a bake that's kept out of sight at the venue and served with the main cake after cutting. With it not being on show there's no need for intricate decoration meaning it's much less expensive per slice.

Thinking of skipping the traditional cake entirely? You could have a selection of gooey chocolate brownies or the bride and groom's favourite cupcakes! If you'd still like something to cut then you could go for the best of both worlds and have a modest centrepiece with small bakes alongside it.
---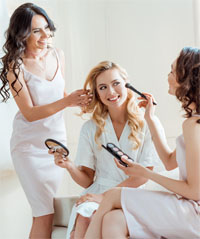 Here come the girls
Q. My bridal party want to have their hair and make-up done professionally but my budget's tight. What options are there to bring costs down?
A. Sophie Downing says: It's important for your bridal party to feel beautiful on the day too but costs can get it the way. There are ways around it though such as deciding on their look without the need for a trial or another great way is to practice a look on one bridesmaid that'll suit everyone. If you guide them on what you'd like to achieve they could even practice on themselves before the big day.

Your best girls are your closest friends and family, so often they won't mind paying for themselves. Some make-up artists will offer discounts when larger parties are booked so be sure to look out for that too.
---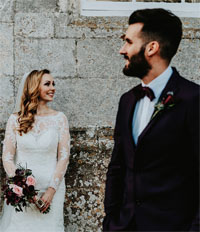 Through the lens
Q. Our photos will be the lasting memories of our day so I don't want to scrimp here but do I need to pay a fortune to get a fab selection of pics?
A. Jonathan Flint says: I'd recommend spending a good 10 per cent of your big-day budget on photography. Most professionals offer a range of packages that vary in price but the quality of work will be the same, it's simply the extra products included when the pricing steps up.

Keep a look out for offers towards the end of the year as that's when booking season hits and it could be quite a good saving. Also if you want albums and prints, see if they're included or an additional cost after the wedding – the price you see may be cheap but then you have to add on the extras! I'd simply do everything you can to go with the photographer you like and maybe add the extras towards the end when you know how much budget you've got left, such as a second photographer, which is always good but sometimes costly.

There's a lot to think about but these are your memories and your ability to relive your special day in years to come so you need to make sure you get them right.
---
Contact our experts...
Jonathan Flint
Photographer
Michaela Chapman
Bridal boutique owner
Sophie Downing
Make-up artist
Yvonne Herring
Cake expert
---