Ask the experts
Here is a selection of Q&As from Your East Midlands Wedding magazine. If you would like your question answered by our experts, please email it to editor@youreastmidlands.wedding.
To view more Q&A's on a different topic, please select one from the list below.
Hot topic: Royal wedding special
Create a day fit for a queen with our stellar advice
---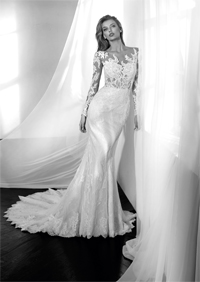 The designer dress
Q. I'd love to take inspiration from Meghan Markle's look and I'm a similar build, which is a bonus. Do you have any thoughts on what look she might opt for?
A. Helen Dickson says: We're sure it's going to be completely different to Kate's or Pippa's. The American fashion for wedding dresses can be quite princess and sparkly with lots of crystal embellishment, which would suit Meghan, but I think she'll choose a fitted style. If Meghan came to our boutique we'd suggest two gorgeous dresses – Zama and Macedonia by St Patrick. Both dresses are fitted to show off her fabulous figure made from a luxurious draping lace and crepe fabric. They both have exquisite illusion backs and sleeves to give the coverage she'll need in St Georges' Chapel. Add the finishing touches of a cathedral-length lace-edged veil with a beautiful hand-crafted headpiece and she'll definitely have the wow factor that everyone expects.
---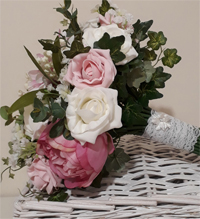 Floral extravaganza
Q. I want to go all out when it comes to our flowers. What would you expect to see in Meghan's bouquet to give me some ideas?
A. Samantha Chubb says: Flowers have so many wonderful meanings. I'd like to see flowers such as peonies for a happy marriage and good fortune and roses to symbolise the sincerity of love. The gerbera daisy's perfect for signifying innocence and purity and for happiness and humility it would have to be lily of the valley. The bouquet pictured captures all of these meanings. I've also added gypsophila, which is one of my personal favourites for its meaning of eternal love and pureness, and the greenery includes eucalyptus for health and ivy for eternity. It's incredible to think that flowers can show so much beauty and contain so much emotion. Although I've not included any myrtle in my design, it's tradition for royal bouquets to contain a sprig. This is believed to have dated back since Queen Victoria, who originally planted it.
---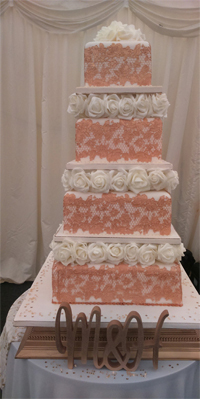 Extreme cakes
Q. When it comes to royal wedding cakes, they really leave you speechless. How can we recreate the regal look for our big-day bake?
A. Helen Houlden says: Royal bakes are usually tall and fairly wide at the bottom, while the colours are subtle and may reflect the dress design or the theme of the day. You can replicate the height by using dummy cakes iced in the same way as the real tiers so your guests don't know the difference. Stacked cakes are still really popular so I'd be surprised to see any pillars in Prince Harry and Meghan's cake. To add height you can use crystal separators, a cocktail glass for a different look or add flowers in between the cake tiers to add a look of luxury to the design. Sometimes it makes it interesting to have different depths of cake in a stack, they don't all have to be the same depth or have the same design on them. Textures play a big part as do metallic colours at the moment and I think this will carry on for quite a while.
---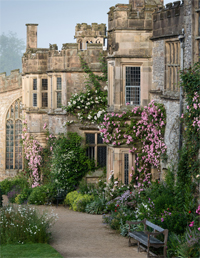 Fairytale surroundings
Q. The venue for the royal wedding will be gorgeous. What style of venue will create the perfect setting that oozes romance and history?
A. Julie Mellor says: To create a day fit for a queen I'd suggest using a room like the spectacular ceremony room at Haddon Hall, the Elizabethan Long Gallery. This room's still used by the family today and was originally a promenade for exercising for the lords and ladies of the day and for social events. The south-facing windows flood the room with a glorious light that highlights the detailed oak panelling and the intricate ceiling. This grand room certainly has the wow factor and allows the bride to make a dramatic entrance down the 110ft aisle. The vast height enables couples to style the room with real trees from the estate to create a backdrop similar to that of William and Kate's in Westminster Abbey.
---
A class act
Q. We're huge fans of live music and want to put on an entertaining, yet elegant show. Do you have any ideas of what we could do?
A. Stephen Harrison says: An ideal compromise between the elegance of a string quartet and the entertainment value of a modern band is a small jazz group. Dating from the early 1900s, jazz bridges the gap between classical and popular music, offering a perfect balance of being refined and engaging. The visual appearance of instruments like the double bass and trumpet also give a stylish look.

Jazz groups tend to be very adaptable, being able to provide gentle background music for drinks receptions and sit-down meals but also more upbeat music into the evening. The wide-ranging repertoire ensures that the sound remains fresh throughout the day, especially as such groups are often capable of delving into later musical styles such as R&B, Motown, Soul and Funk.
---
Contact our experts...
Helen Dickson
Bridal boutique director
Helen Houlden
Cake expert
Julie Mellor
Wedding and events manager
Stephen Harrison
Musician and entertainment expert
---