Ask the experts
Here is a selection of Q&As from Your East Midlands Wedding magazine. If you would like your question answered by our experts, please email it to editor@youreastmidlands.wedding.
To view more Q&A's on a different topic, please select one from the list below.
Hot topic: Trending
Our experts advise on what's hot in the world of weddings
---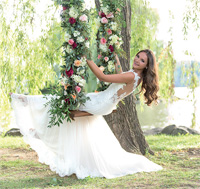 Stand out from the crowd
Q. I'm getting married next year and want a dress that will still be on trend by the time the big day arrives. Can you advise on the best look to go for that won't date?
A. Suzy Simmons says: I'd advise to not get too hung up on trends and start looking with an open mind. Most gowns take up to six months to arrive once ordered anyway so the styles you find in the shops will still be being worn for months and even years ahead. Instead of working around trends, perhaps think about your venue and the time of year if you feel you need a starting point. When you start trying on the styles you think you want to wear, you'll find that what you actually end up liking can be completely different.

There are certain trends that come and go. At the moment there's a lot of boho styles and low backs and, as lovely as they are, they don't suit every bride. The best part of being the bride is standing out from the crowd and looking and feeling amazing – so why be confined by what's on-trend at the time? Try lots of styles so when you make your decision you can be confident that you've ruled everything out and the one you've decided on really is the one.
---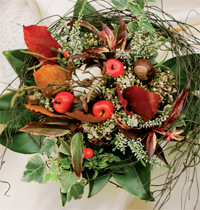 Fashionable flowers
Q. I'm planning an Autumn wedding and would love to know what blooms are ideal for that time of year as well as any ideas for my bouquet design?
A. Kelly McGuinness says: I'd go for colours such as burnt orange and yellow. A perfect combination would be orange calla lilies, cream freesia, white wax flower with peach berries and twigs added into the mix and bound with hessian to give it a rustic feel. Berries are very popular for that time of year and golden leaves are ideal for your foliage.

In terms of design, loose posies are popular as they look very natural and shabby chic, and for your bridesmaids why not opt for something like a wrist corsage for a different look?
---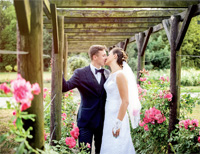 Strike a pose
Q. When it comes to our photography style, we'd prefer a contemporary look. The problem is I don't want to make it too modern so that it dates – help!
A. Lizzie Adams says: When it comes to finding a photographer, you should get to know them and their style. They'll be spending a lot of time with you, so it's important that you can get on with them.

Find a pro whose work you like by researching websites or reading reviews and recommendations, and don't ask them for anything different, that way the work will be natural and you'll enjoy it – two things which should never date! Once you find the right photographer, don't be afraid to ask for their advice when it comes to new ideas, they're the experts after all.
---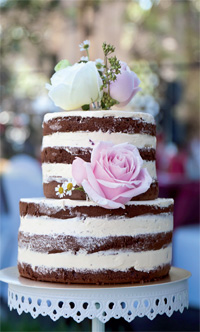 Sweet inspiration
Q. Naked cakes are really popular at the moment and I think they look great but I want something different. Can you let me know what I can do with the decoration to give it the edge?
A. Victoria Lee says: Naked cakes are becoming more popular as they suit the rustic trend. That doesn't mean that they can't be oozing in personality though.

The image of a naked cake we all have is a sponge laden with fresh berries and fruit, but don't let that limit you. Any flavour will work perfectly so don't rule out a chocolate or sumptuous carrot cake – remember to have the darker tiers towards the bottom so that the overall cake doesn't appear top heavy. If you prefer a simple look you still don't have to limit your taste buds, many sponges bake the same colour so ask your cake maker for ideas.

When it comes to the fruit, think outside the berry box. A bake dressed in figs, blackberries, blueberries and clusters of grapes would embrace a purple colour theme and create a wonderfully opulent Grecian feel. The addition of flowers can completely change the appearance as can a personalised cake topper.

If you really want to wow, consider adding special items such as macaroons, truffles or edible gold leaf. Fresh lavender or herbs could add a scented element to the display, or you could even consider colouring the frosting inside the cakes!
---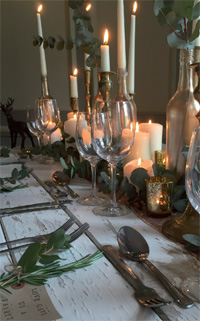 Style guide
Q. We're trying to come up with a theme and don't know where to start. What's fashionable when it comes to the big-day look?
A. Charlotte Bell says: The hottest trend is still rustic and it doesn't seem to be disappearing soon! Woodland influences, tree trunks, moss and crates are the absolute staples of this look. But why not put a twist on the traditional rustic theme and opt for a bit of glam instead? Contrasting earthy tones and influences such as wood and moss with brass candlesticks, lace and sequins adds a touch of luxury.

Here are a few tips…
Take the indoors out and hang chandeliers from branches. This is a great example of how chic and rustic can combine perfectly.
String festoon lights up with paper lanterns and ribbon garlands from tree to tree.
Style wooden tables with lace and candlelight for ambiance.
Dot hay bales, crochet blankets and crates around the venue with handwritten signs to enhance the beauty of this theme.
---
Contact our experts...

Charlotte Bell
Décor expert

Kelly McGuinness
Florist

Lizzie Adams
Photographer

Suzy Simmons
Bridal boutique owner

Victoria Lee
Cake expert
---