Ask the experts
Here is a selection of Q&As from Your East Midlands Wedding magazine. If you would like your question answered by our experts, please email it to editor@youreastmidlands.wedding.
To view more Q&A's on a different topic, please select one from the list below.
Hot topic: Seasonal style
Create a winter wonderland with the help of our experts
---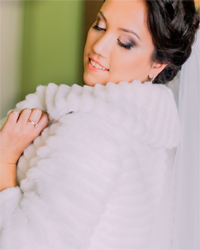 Stylishly snug
Q. We're planning a November wedding so it's going to be cold. Can you help me decide what I should wear that'll keep me warm without sacrificing style?
A. Susanne Wilkie says: Winter weddings are my personal favourite! I'd advise to select your gown after the venue's been booked so your theme can be considered. Think princess ball gowns with clinched-in waists and diamanté encrusted bodices, teamed with a light bolero or cashmere stole. You could try a vintage wonderland theme with a short full skirt and fabulous handmade shoes.

Hollywood glamour's always a massive hit with brides at this time of year. Opt for lace sleeves and a stunning sheer appliqué back with a skirt of flowing crêpe and accessorise with a warm ostrich or marabou feather wrap for that wow factor. Amazing long capes trimmed with velvet or fur are really practical and, what's more, they look great.
---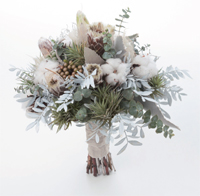 Fairytale blooms
Q. I'd like my bouquet to complement our winter nuptials. What flowers should I opt for and are there any other elements I can add in to the mix?
A. Sara Bates says: One of the key elements is choosing the right colour. There are many options from the red and gold of Christmas to icy blue and crisp white with hints of silver and sparkles. While flowers are an important key feature of a bouquet I'd always suggest thinking outside the box as there are lots of other elements that can be included for an added twist. Use white orchids combined with snow-frosted pine cones for a modern focal point along with a glittery white wool collar surround. Add pure white feathers, silver wire twists and lots of beautiful Swarovski crystals to catch the light and create lots of sparkle and this bouquet will transport you to a snow-covered winter wonderland!
---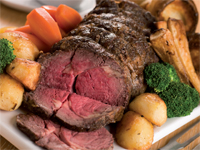 Comfort food
Q. We're just in the process of choosing our big-day food and drink options. Can you give me some seasonal ideas that are warming, comforting and rich in flavour?
A. Jack Robson says: Keep your food choices quite simple but rich in flavour as opposed to trying to make things too fancy. The perfect winter warmer would be roast rib of beef served with broccoli mash, honey glazed slow roast carrots and a rich red wine jus. This is homely, warm, full of flavour and feels just like a special family dinner. To follow, you could opt for a trio of mulled plum crumble with homemade vanilla ice cream, warm chocolate brownie with fruit and crème brûlée. I'd advise against cold dishes for winter nuptials and opt for a hearty warm meal that'll leave your guests happy and full. Team your menu with seasonal drinks such as mulled wine that's full of herbs and spices (burnt and peeled orange is a lovely addition) and winter cocktails go down a treat too-spiced cider and cinnamon-based concoctions are perfect!
---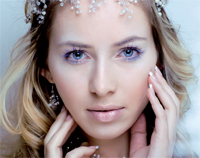 Snow queen
Q. I want to go all-out when it comes to my bridal make-up. How can I create a winter look that'll transform me from every-day ok to big-day wow?
A. Estera Sutton says: Transform your look by choosing wintry colours like silver, red, purple and gold but make sure whichever you choose suits your complexion and your wedding colour scheme.

I'd suggest that you choose between smoky eyes or a bold lip – having them both can be unflattering and over the top. If you do decide on having darker eyes, try a foiled eyeshadow – gold's my favourite but silver, purple and bronze would also work well – and combine this with a set of dramatic wispy lashes and winged eyeliner. Apply the colour to both the upper eyelid and lower lash line for a more striking look, add some pencil eyeliner and mascara to intensify the finish and pair with a light pink or nude lip colour.

If you'd prefer your lips to stand out, try a classic red, burgundy or purple tone in a matte finish and make sure your lips are moistened and lightly exfoliated prior to application. With bold lips, wear natural eyeshadow in nude or silver and finish with mascara and a set of lashes.
---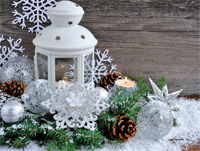 Set the scene
Q. We've chosen a venue that's a blank canvas so we can create our winter wonderland. Can you give me some inspiration for creating the perfect scene?
A. Charlotte Bell says: Nothing oozes romantic winter like glistening snow, glitter and snowflakes and this is such a simple, cost effective way to style your wedding.

Spray pine cones silver and add PVA glue and glitter for fab favours or place card holders. Hang paper snowflakes from the ceiling, dust fake snow around your entrance and use silver lanterns to light the way. To create a truly romantic feel, be sure to use an endless amount of twinkle lights on windowsills and recesses. For your centrepieces, candelabras are great as they epitomise romance. Drape them with crystal garlands to glisten in the candlelight and surround them with white and silver scatter crystals for that added sparkle!
---
Contact our experts...

Charlotte Bell
Décor expert

Estera Sutton
Make-up Artist

Jack Robson
Catering expert

Sara Bates
Floral expert

Susanne Wilkie
Bridal boutique owner
---